Updated: 28/07/2020 10:49, Counter: 158
Enterprises coming to the university to "hunt" potential empoloyees from students' theses
TTO - Many technological companies attended the 'Poster Day' held at Ho Chi Minh City University of Technology (Vietnam National University - Ho Chi Minh) this morning of 27 July to seek for potential employees.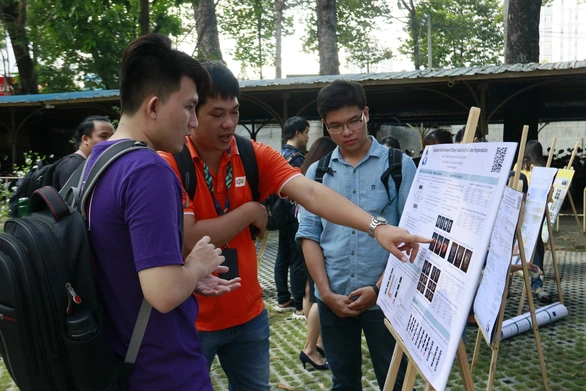 Representative of FPT Company explored the students' topics in the morning of 27 July "Poster day" at Ho Chi Minh City University of Technology – Photo by: THY HUYEN'
The "Poster Day" which was organized by Faculty of Computer Science and Engineering – HCMUT attracts more than 130 thesis topics prepared by students for their defending in August 2020 addressing a variety of rich and practical issues. This is an annual activity of the faculty to help students receive further comments and suggestions from lecturers and businesses to improve their theses before reporting.
Specially on this occasion, many leading technological companies in Vietnam such as FPT, VNG, KMS, Zalo, Shopee ... met directly with students to learn about suitable topics for recruiting appropriate candidates in the field of information technology.
According to Assoc.Prof. Dr. Pham Tran Vu - Dean of Faculty of Computer Science and Engineering, the Poster Day was organized to create conditions for the students who are working on their theses to introduce their products. Students; through this event, can complete the theses based on valuable comments and suggestions.
Currently, computer science and computer engineering is being rated as a "hot" field by businesses. Companies often come to the university to "hunt" personnel in programming, network systems engineering, hardware engineering, game programming & designing, network security ...
"Enterprises also explore informaiton and observe outstanding students to recruit them for their companies. In fact, many students with good English proficiency, high expertise and qualified theses have been invited to work for enterprises even when they haven't been graduated yet. Taking this opportunity, the faculty also introduced to the enterprises the research work of our lecturers and students "- Mr. Vu added.
Source: tuoitre.vn